Covid-19
Coronavirus - Housing Resources

COVID-19 Homeowner,1st Time Homebuyer & Small Landlord FAQs
COVID-19 Housing FAQs and Resources
by Louisiana Fair Housing Action Center
Coronavirus - Housing Response
To Our Valued Community Members and Partners:
In this time of uncertainty with respect to the Coronavirus and precautions we must take; it is our responsibility to keep the best interest of our resident leaders, members, partners and employees always at the forefront of our thoughts and concerns. As we continue to monitor the COVID-19 situation we are taking precautions to keep all safe and healthy as best we can.

We are implementing a temporary "work from home" or telecommuting policy and we are replacing in-person meetings with virtual meetings and suspending all non-essential travel to prevent the spread of the virus to our valued partners, employees, and community members. We will continue to work closely with our partners and community members on advocacy and other important projects throughout Orleans Parish and statewide. We will remain available by phone and email during our normal operating hours of 8:30 am to 5:00 pm, Monday - Friday.

It is our greatest wish that we all stay safe and healthy in this crisis while maintaining excellent service and work. As we continue to monitor the situation, we will inform you as changes occur in our daily operations.

Stay healthy and safe.

Very Respectfully,

Andreanecia Morris
HousingNOLA Executive Director/GNOHA President
---
COVID-19 PRIORITY STATEMENT
May 12, 2020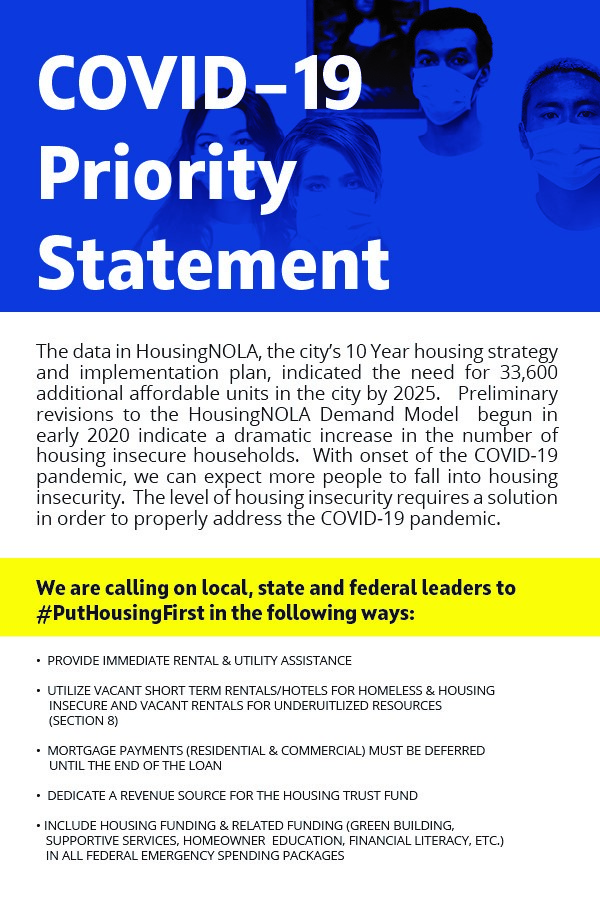 GNOHA stands in partnership on the above COVID-19 Priority Statement with the following:
Alliance for Affordable Energy
Alliance for Neighborhood Prosperity
Bethany UMC
Brotherhood Inc.
CASA New Orleans
Enterprise Community Partners
Healingminds NOLA
Louisiana Center for Children's Rights
Louisiana Fair Housing Action Center
Lower 9th Ward Home Ownership Association
National Housing Trust
National Resources Defense Council
Neighborhood Development Foundation
New Orleans Chamber of Commerce
New Orleans Redevelopment Authority
NoAge NOLA
Orleans Public Education Network
Ride New Orleans
Urban Focus, LLC.
Volunteers of America Residential Reentry Center
NOW MORE THAN EVER, HOUSING IS HEALTHCARE
NEW ORLEANS – Wednesday, March 18, 2020 – How can we tell people to stay home, when they don't have homes? The COVID-19 crisis is having a devastating impact on New Orleans' affordable housing crisis and immediate action must be taken.
The Greater New Orleans Housing Alliance (GNOHA) is calling on local, state and federal leaders to #PutHousingFirst in the following ways:
PROVIDE IMMEDIATE RENTAL ASSISTANCE
The State of Louisiana and City of New Orleans must allocate funds for immediate rental assistance so landlords can continue to provide housing for renters, and to secure occupiable units like hotels and Air BnB's for the homeless as shelter-in-place policies tighten. This should include an allocation for case workers of residents who require social services, as well as an allocation to the property managers and maintenance personnel who will be working tirelessly to ensure the habitability of homes during this crisis. Also, while there are laws in place to stop price gouging on necessary items like water and gas, there is no law on the books to stop price gouging for another necessity: housing.

PUT HOUSING AUTHORITY VOUCHER FAMILIES INTO VACANT HOMES
Right now, there are more than 35,000 vacant homes and apartments in New Orleans. New Orleans has almost 900 vouchers that are not being used and a 24,000 person waiting list. GNOHA is calling on local leaders to expedite polices that prevent income discrimination, and institute programs that will quickly match these voucher families with homes that are sitting vacant.

DEDICATE A REVENUE SOURCE FOR THE HOUSING TRUST FUND
Despite the Louisiana legislative session being in recess, we are calling on State Senators and Representatives take the steps necessary to solve our affordable housing crisis. The Housing Trust Fund has never had a dedicated source of revenue, and that must change. Lawmakers need to make it a priority to appropriate emergency housing funding to ensure everyone has a place to live while we navigate the COVID-19 crisis.

INCLUDE HOUSING FUNDING IN THE FEDERAL EMERGENCY SPENDING PACKAGE
This week, Congress proposed an emergency spending package in response to COVID-19. It is not enough direct assistance to the most directly impacted nor does it include resources to ensure housing stability for people with the greatest needs. We agree with Senator Elizabeth Warren, (D) Massachusetts, in that we should increase social security checks, cancel student-loan debt, AND invest in affordable housing. We are also calling on federal, state and city leaders to offer relief options for mortgages that would provide relief to homeowners and property owners.

The Greater New Orleans Housing Alliance would like to thank Governor John Bel Edwards and Mayor LaToya Cantrell for their continued efforts to keep our state and city safe from COVID-19. We are pleased that our local leaders sought and received commitments from Entergy and the Sewerage and Water Board to suspend disconnections, and that 1st and 2nd City Court and HANO are postponing ruling on evictions. These were great first steps, but barely touch the surface in the joint battle against the COVID-19 and affordable housing crises. And while we acknowledge leaders have tapped existing homeless-prevention funding, it is simply not enough. This is an unprecedented emergency and should be handled as such. For the past 4 years we have been calling on our leaders to act proactively, and NOW extraordinary measures MUST be taken! We need immediate, mid-term, and long-term solutions at the local, state, and federal levels, and we must act quickly!

#